Sunday
10.
Nov 2019
12:45
League of Legends – World Championship viewing party!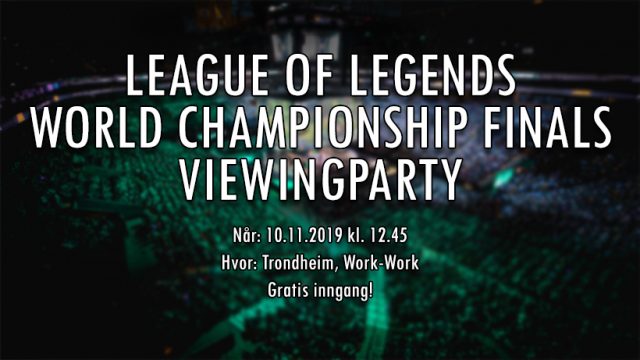 Bli med på et av årets største begivenheter innen e-sport! Den 10. november streamer vi verdensmesterskapet i League of Legends, som anholdes i Paris.
Åpningsshowet starter klokken 13:00, så denne søndagen åpner vi dørene klokken 12:45. Vi arrangerer quiz med flotte gaming-relaterte premier. Vi byr på god drikke i baren og håper du vil tilbringe dagen med oss. Bli med på moroa, det finnes ingen bedre måte å se på e-sport, enn sammen med andre!
Vi vil oppdatere program og bracket fortløpende. I mellomtiden heier vi på at EU kommer til finalen.
Aldersgrense: Fri alder før 20:00. 18+ etter klokken 20:00.
Gratis inngang, og mulighet til å vinne flotte premier.
Velkommen til Work-Work!